Profile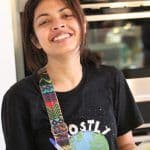 Sreejita Ghosh
Data Science (Machine learning) PhD student
My CV
Education

Primary and Middle school: Calcutta Girls' High School (Kolkata, India)
High School: Bhartiya Vidya Bhavan, Salt Lake (Kolkata, India)
Bachelors: Vellore institute of Technology (Vellore, India)
Masters: University of Groningen, The Netherlands

Qualifications

My school and Bachelor years were in India. My GCSE equivalent was an exam called ICSE. My cumulative percentage was 94.4 (with English language and literature, mathematics, computer applications, chemistry, physics, biology, history, geography, and my 2nd native language Bengali).
The high school leaving exam I had to take was called AISSCE and I had got a cumulative of 89% (with Physics, Chemistry, Biology, Mathematics, English and Bengali) .
B.Tech in Biomedical Engineering (India).
MSc. in Biomedical Engineering (Specialization: Diagnostic imaging and instrumentation / Clinical Physics) (The Netherlands)
PhD (ongoing): Intelligent Systems group, Bernoulli Institute, University of Groningen, The Netherlands

Work History

Internship at Philips Research Eindhoven, during Masters.
Teaching assistant for 'Modelling and Simulation' during Masters.
Teaching assistant for courses called 'Introduction to Data Science' and 'Computational Intelligence to Neural networks', during my PhD.

Current Job

PhD student in Data Science/ Machine learning, in the University of Groningen, The Netherlands. I mostly work with doctors. One of them is from University of Birmingham and her patients are kids. I specially mentioned her here because she and I are fellow Whovians and share 3 supervisors (one of them is Prof. Neville Longbottom himself). Also Liz is one of the people who helped me express what I do, so neatly. The other colleagues who helped me in this are Caroline and Aleke (who apply computer science to Astronomy), and Ahmad (who uses computer science to find out the right age for pigs to be made into bacon).

Employer

One of the primary reasons I have been able to survive the "bad days" and weeks of academia is because of my supervisor and my promoter. They are brilliant minds but most importantly they are both wonderful human beings.

My academic family consist of these wonderfully imperfect people and again, some of the best human beings I have met so far. The photo below shows my academic siblings and first cousins, my PhD supervisor and promoter, during one of our extended academic family meetings in Saxony. My PhD promoter is the best cook and one of the coolest people I have met (brilliant with Photoshop, movie making and dark humour). He is originally a Statistical Physicist but currently in Computer Science. He is also my Grandvisor (was also the PhD supervisor of my PhD supervisor).


Intelligent Systems outing to Allersmaborg

And now for my work family in the university I work at, the Intelligent Systems family. We try to make computers more intelligent so that we can be lazy 😛

In summary I'd like to add that these sweet human beings are the reason that I enjoy research even when the results don't support the research question I am trying to find an answer to, or the task I am asked to do seems too difficult. Family is one that nurtures us: these people who are in the same state as I am, especially my fellow PhD students (confused about future, sad at times because of research, lost in life), we make every day less confusing, less sad, and more fun for each other. I could not have asked for a better academic family.

I also have another academic family and one of my supervisor there is Prof. Neville Longbottom disguised as a Muggle Mathematician/Computer Scientist. There is also my doctor friend/co-researcher, fellow Whovian Liz, and ofcourse another of our common supervisors, a strict but kind prof. McGonagall.
About Me:

Usually an introvert but when I find my favourite topics of discussion I find it difficult to stop talking. I like doodling, photography, and jiujitsu.

Read more

I am an amateur photographer and doodler. Sometimes I do a bit more serious painting to express myself. Whovian. South Park fan. I love cooking and swimming. I am also known for getting hurt too often due to my hobby of jiujitsu. Once upon a time, many many years ago I had trained to become a singer in Indian classical music. Then things arrived at a point when I had to choose between music and science. I had to quit music. Hence now that I am independent, after 12 years of separation from practicing music, I am trying to find my way back to it, but this time solely for myself. I sing while cooking and recently I have bought an ukulele and I am learning (more of struggling) to play that. I am told that I have a very dark sense of humour. I love solo travels. Whenever work and surroundings become too confusing and suffocating I plan and go on solo travels.

My Work:

I try to make sense of numbers using maths, physics & computers. Numbers generated by machines everyday form different patterns. I try to find these patterns in order to find what is going on in the body of patients.

Read more

My team and I have developed a 'machine learning' program which can identify rare diseases of the adrenal gland (a cap-like gland on top of each kidney), and help doctors find out faster which part of the adrenal gland is not working. The faster the doctors are able to find the problem the faster they are able to treat it.

Machine learning is where we teach a computer to recognise patterns in big data sets. In this case, the computer learns about perfect examples ('prototypes') of different adrenal diseases, from data about patients' heart rate, blood pressure, ECG profile, and urine and blood test results. We can then show the computer some of these data from a new patient, and the computer can tell us which disease this patient might have.

Sometimes while dealing with rare diseases, doctors often do not know which hormones in the patient's body are causing their symptoms. The program my team and I have developed can also give more information about which hormones are more and which hormones are less responsible for the disease. This can help the doctors to understand the adrenal disorders better.

We use computer science, maths and physics to help build up the model and make sure that it is as accurate as possible.

And here is a gif which shows how I use Geometry to make results of grouping by my model to appear on a spinning sphere (which I have named Sphere of Doom). The stars show the prototypes which are, as I mentioned before, the 'perfect examples'. The alpha-numeric codes  are the names of the hormone disorders which my program can find and gain knowledge about.

My Typical Day:

Wake up-brush-tea-strum ukeleke-get ready for office-bike to office- try to understand what story the numbers are trying to tell-bike back home/ dojo.

Read more

I have recently bought a ukulele. Everyday after waking up around sunrise, brushing and getting the first cup of tea, I try to learn how to play the ukulele less horribly than the previous day. After an hour of practice I get ready to go to my office where I spend the day trying to find out patterns (prototypes) from numbers generated by big medical machines. I teach the computer to learn to spot these patterns when a new measurement comes from the big medical machines.

Late evenings some days I go to my dojo for jiujitsu (currently training for green).

Other days I just return home to cook food (I cook just twice a week, I am a very lazy person). Sometimes there are fun things to do with friends 😉

What I'd do with the prize money:

Train interested fellow PhD students in science communication. Try to explain to school kids in India how Maths and Physics is actually beautiful and can be used to make life lazier. Organize a meet-up for doctors in my city in India and explain to them the importance of digital book-keeping and how machine learning can ease their work load.

Read more

If I win the money I would like to organize science communication trainings for fellow PhD students and post-docs. I believe that unless we as scientists are able to explain our work to different people, of all ages, and educational background, our work in science is only half done. With the encouragement and feedback I get from you I think I will be ready to explain to more doctors what machine learning can do for them… So I'd organize a meet up session with the overworked but sweet doctors in my city in India and tell them about what machine learning can do to ease their work load. And since it is because of school going brilliant minds that I would have been encouraged this much I'd like to visit a few schools in my city to talk to the students there and tell them how Maths and Physics are so much more than just getting good grades and securing a place in the prestigious universities.

Do science blogging in such a way that everyone can understand what I am trying to do.
My fellow scientist friends and I had once planned to make songs on what we do, such that students find it fun to learn and they remember better. Probably these last 2 don't need much money, but just sharing an idea of what else I intend to do in the near future for science communication.
My Interview

How would you describe yourself in 3 words?

Eccentric, sarcastic, introvert

What or who inspired you to follow your career?

My dad is the who, my curiosity is the what. (My mom is the 'how')

What was your favourite subject at school?

Computer science, Chemistry, and English Literature

What did you want to be after you left school?

Biomedical Engineer, and help doctors by making progress in healthcare related tech devices

Were you ever in trouble at school?

I used to hide in the restroom during PE. Also got caught several times and was rebuked.

If you weren't doing this job, what would you choose instead?

Probably an Auror if my letter from Hogwarts had arrived on time. Just kidding. I would probably have tried to become a psychiatrist, or a radio DJ, or an English and Science teacher in some Himalayan boarding school in India.

Who is your favourite singer or band?

Queen, The Beatles, Poets of the Fall, Simon & Garfunkel, Kaushiki Chakraborty (you might not have heard of her)

What's your favourite food?

Potato with poppy seeds (we call it aloo posto in my native language)

What is the most fun thing you've done?

Had gone snorkeling in Croatia. However the water was too cold and y snorkelling equipment turned out to have leaks. So salty water got into my mouth and I panicked and tried to stand. I stood on urchins and sharp rocks. It did seem like misadventure but it it wasn't for the bleeding feet I would not have gone to the hospital in Zadar, and would not have found out a non-touristy beautiful scenic spot there. So yeah, misadventures are fun in retrospective.

If you had 3 wishes for yourself what would they be? - be honest!

1. A time machine, 2. Become a ninja, 3. Be able to understand baby-language

Tell us a joke.

Owl: My big break is near Panda, I can feel it. Panda: Wow! Congrats little owl. What sort of a break is it? Owl: A psychotic one.
My profile link:
https://ias.im/u.234957
---
---